nMX | High speed blister packaging machine with plate sealing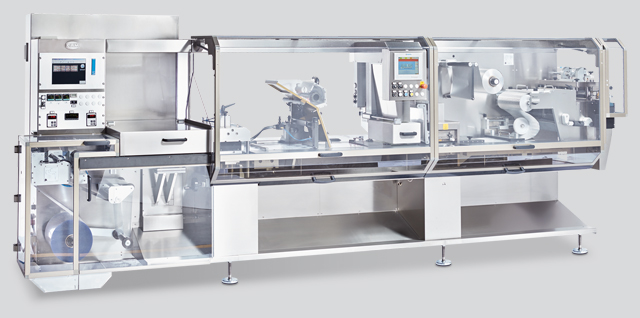 The machine, with a balcony structure in the loading area, has small overall dimensions and is simple to use, a distinguishing trait of CAM blister machines.
Thanks to CAM experience, the nMX has been designed with a special regard towards fast and intuitive format change-over, designing each part in view of a fast replacement by minor intuitive operations. Systems for sealing, forming and cutting plates, plain guides for product load deck, and sensors detecting their correct position, make format change-over simple even for unskilled operators. The nMX shares its function prin- ciples with other CAM blister machines, allowing interchangeability of format-based parts with certain older models.
The nMX is also designed particularly taking into account cleaning and inspection operations in compliance with GMP regulations. Machine operation and reliability are also guaranteed by safety ces promptly detecting overload.
The machine can handle hard or soft jelly capsules ragees, pills of any shape or type, lacquered or not lacquered. These can be handled for any disposition thanks to complete range of feeders.
Plate sealing guarantees a uniform sealing pressure on all the product surface, and high pressure loads.
The machine lends itself to forming a vast range of materials (and material combinations) inclu- ding PVC, PVC—PVDC, PVC—PE-PDVC, ACLAR, PETG, ALU-PE, PETG, ALU-PE, ALU-PP, and coating materials such as aluminium, aluminium- paper, aluminium-paper-Mylar, aluminium—PE. The nMX is equipped with a reel holder for forming reels of diameter up to 600 mm, as well as a motorized unwinder for the forming material.
The nMX is also available in a version for syringes, and a version for ampoules and vials, which differs from the other versions in that it includes mechanical web transfer and coplanar cutting die, with the possibility of a sealing station for trays with lid picking.